Bareboat Charter available.
Yola (Jeanneau Sun Odyssey 37) will be available for bareboat charter providing the skipper has the relevant experience and qualifications. 9 berths in 4 cabins ideal for a family/group of 6.
Please enquire about availability.
.
.
GIFT VOUCHERS now available for 2022.
The perfect gift after being cooped up for so long.
We're ready to go, are you?
Vouchers cost €50 and multiples thereof which can be used against any of our courses and cruises.
The Covid-19 vaccine is on the way and hopefully we will have some sort of normality again soon.

Things will be different but with the correct precautions our aim is to keep everyone safe.
Sailing Ireland will post the Sailing Schedule for the 2022 as soon as we the the go ahead from the relative authorities. Season duration :March-Oct.

We have many exciting courses and cruises planned.
We look forward to meeting and sailing with you on board Yola.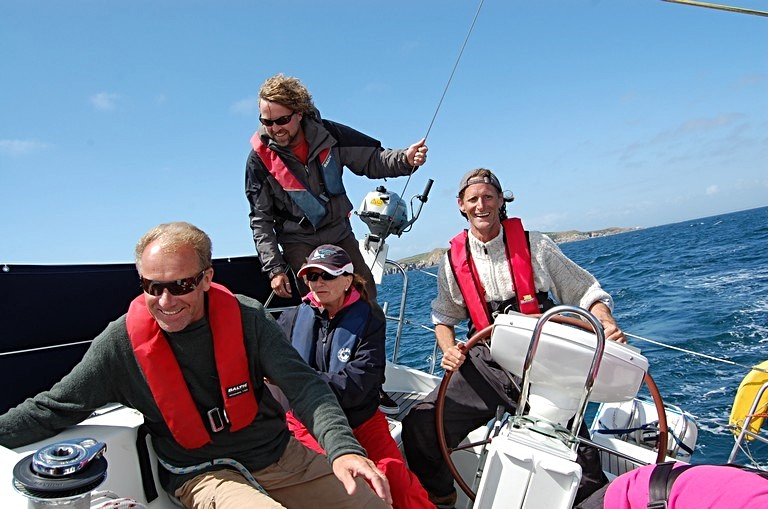 Thankfully to the COVID-19 Lockdown
and the lifting of restriction we will post the SAILING SCHEDULE for the 2022 season soon.


We will update the Schedules page soon.
Please contact us for advice or a chat about your options.

Sailing Ireland specialise in teaching adults of all ages and abilities to sail. Whether you are a complete novice (Competent Crew Course) or an improver (Day Skipper Practical Course) or more advanced then give us a call or email for advice on your best options going forward to gaining your certification and more importantly you confidence to go sailing.

We have some great courses and cruises planned for this season and we plan to commence in March and continue on well into October. Practical on the water courses, ICC's, VHF, Navigation and Sailing Cruises available.


Great Sailing planned for 2022

Give us a call today for a friendly chat to discuss your plans and
we will gladly discuss the best option to suit you.
We specialise in teaching adults to learn a fantastic exhilarating skill
in a relaxed friendly atmosphere.

Latest update: Tuesday 21/01/2022
Sailing Scheduled: Cruises & Courses


Day Skipper Practical & Competent Crew Courses: 5 day liveaboard: Click here for Schedule

ISA Certification on completion
5 day live aboard courses
Includes Navigation Theory
Dates: Multiple Options available
Next Course:
Also booking:
Sailing from Kilmore Quay to harbours in South East Region
Limited to 5 Candidates only: Limited Places available
Booking now for great instruction/holiday afloat.


Other Planned Courses:

Introduction to Sailing: 2 day liveaboard weekend course :
Great way to spend a weekend: Learn the basics while living aboard
Dates: On Demand: Please enquire to register your interest
Please enquire about future dates
VHF Radio Course:
Full SRC Course incl. DSC
Venue: Wexford Boat Club
2 day course with DoT exam
Dates: TBA : please lodge your interest NOW to secure a place
Next course : Please note your interest and we will arrange a course
Limited numbers: Max 10

ICC 2 day: Preparation and Examination
International Certificate of Competence
As required for bareboat charter abroad
Next course: Options See Schedule
Day Test only: By Arrangement
Venue: Kilmore Quay
Cost: €295 (includes accommodation on board)
Limited to 5 candidates: Full (Please lodge your interest for the next course early)


Yachtmaster Coastal and Offshore Preparation Course
Designed to get you through the ISA or RYA Practical Exam
5 day liveaboard course with practical and theory instruction
Night sailing, Passage Planning, Pilotage, MOBs, Confined quarter handling and more.
All mileage and night hours count on your logbook.
Staring/finishing in Kilmore Quay
Exam arranged as immediate follow on or at a later stage.
Course dates: In planning
Cost : €750
Limited numbers, examiner arranged, early booking recommended.
Milebuilding /Holiday Cruising
Exciting destinations such as the Isles of Scilly's, Wales, Isle of Mann, West Cork
For Mileage building & skippering experience you can join in on a cruise
which will tick all the boxes for your Logbook.
Then again you can just chill and enjoy a wonderful sailing experience and take in the sights.

See: Upcoming Courses Page for more information


The sailing courses will run through-out the summer. (March-Oct)

The boat is also available for charter as a bareboat or skippered.

Family and group cruises arranged




Please contact us for a chat about your options and




we can add you to our crew list for regular updates.



Range of Activities
Taste of Sailing: Fun day sailing around the Saltee Islands: Suitable for all ages/levels
Competent Crew: Learn the basics and become an active crewmember
Day Skipper: Develop the necessary skills to safely skipper your own boat
Coastal Skipper: Learn to skipper a boat over longer cruises and to distant destinations
Yachtmaster: Advanced sailing course
VHF Courses: SRC Licence for small craft, includes GMDSS and DSC
ICC: International Certificate of Competence for chartering abroad
Cruises: Gain sea miles and skipper experience while having a great holiday afloat
---
---
Learn to Sail in Ireland with Sailing Ireland, Ireland's leading sailing school for adult sailors.
Sailing Ireland are based in Kilmore Quay, Co. Wexford.
Try a Sail Taster day with Sailing Ireland, Ireland's top sailing school and yacht charter company.
Experience the thrill of helming a modern yacht in the beautiful sailing waters around the
Saltee Islands and Ireland's South East coast.
Whether you are a novice to sailing looking to start in yachting and eager to learn to sail in
a stress-free and fun environment or a more experienced sailor wishing to gain a sailing
qualification, then you are on the right tack.
In Sailing Ireland, we take pride in passing on our love of sailing in a relaxed enjoyable manner.
Sailing Ireland sailing school take a long-term interest in all our students by offering free advice.
We want to ensure that you achieve your goals and enjoy your time while sailing with us to get
optimum benefits from a sailing course or cruise.
Sailing Ireland offers advice on the best route to further develop your new skills and we can recommend you to clubs in your area whether it's racing or short/long distance cruising which interests you.
Sailing Ireland also offer a one stop shop for training in navigation theory, VHF radio and electronic navigation equipment.
The large number of students who return to Sailing Ireland for follow on courses and cruises are a testament that our philosophy is correct.
Many of our students have achieved their Yachtmaster Qualifications and are now working
in the sailing industry or cruising afar on their own boats.
See our testimonial section for feedback from past students and cruise trippers.
You can improve your boating skills with a customised crew or family training day
on your own boat or if preferred on our sailing school boat.
(Berthing, sail trim, safety manoeuvres, man overboard recovery, Med. Mooring etc..)
Boat delivery and assisted deliveries available. (Learn as you go and gain confidence)
Mile-building cruises and Yachtmaster experience courses available.
Sailing Ireland sail the latest yachts which are passed by the MSO
to passenger boat standard (MSO licence #1014)

Challenge yourself for something new... You'll Love It

Learn to Sail with Sailing Ireland. Beginner's can start with a Try a Sail Day or a two day Introduction to Sailing.
You will get to helm the boat under full sail and realise the thrill of sailing.
From there you can proceed to a Competent Crew or Day Skipper Course over 5 days or split into two weekends.
The Day Skipper course will arm you with all the skills and qualifications required to charter a yacht abroad. This qualification automatically entitles you to the ICC Cert for chartering abroad.
Sailing Ireland is an ISA accredited sailing and yacht charter company based in Kilmore Quay, Co. Wexford.
We offer a great range of courses suitable for the total beginner through to the seasoned
sailor and we can take you through the A - Z of sailing in a fun, practical way
that will leave you looking forward to more time on the water.
Many of our courses take place around the Saltee Islands off the Wexford coast between
Carnsore Point and the Hook Peninsula. Our cruising grounds also take in the south and
east coasts of Ireland as well as England, Wales and the Isles of Scilly.
Sailing ireland offer the full ISA Cruising Scheme, Shore based Navigation, VHF Radio and ICC Certification Courses as well as beginners and improvers classes.
Sailing Ireland also offers Try a Sail Days and relaxing day, weekend or week-long charters for up to eight family or friends.

We can also offer some great corporate entertainment and team building opportunities.
Why not enter Cork Week or the Dun Laoghaire Regatta under your company name or
have a match racing event to encourage teamwork within your company?
We have a course to suit everyone and are always available to talk through what courses or options might suit you best.

We can tailor a course to suit individual needs on a one to one or group basis
(eg. berthing, Safety drills, sail trim, electronic navigation, radar etc.).
Just give us a call on +353 (0) 86 171 3800 for free advice and a chat about your best options to reach your dream.
You can also email us at: sailing@sailingireland.ie

For photos, course updates and news follow us on facebook